MODERN LANDFILL TECHNOLOGY – LANDFILL BEHAVIOR OF MECHANICALBIOLOGICAL PRE-TREATED WASTE
The goal of mechanical-biological waste (MBW) treatment is the recycling of separated fractions on the one side and the biological stabilisation of the waste on the other side. With the implementation of the German Waste Storage Ordinance (Ordinance about Environmentally Compatible Storage of Waste from Human Settlements; AbfAblV) this aim was reached. By the realisation of the German Waste Storage Ordinance follows that in Germany from June 2005 on only pre-treated wastes are allowed to be dumped in landfills. In some parts pre-treatment will fundamentally change the physical, biological and chemical properties of the material to be landfilled compared with the wastes which have been landfilled before. The behaviour of wastes during and after emplacement in the landfill is different from the behaviour which has been observed during the last 30 years by landfilling municipal solid wastes.
The mechanical-biological pre-treatment of wastes has far-reaching effects on the construction and operation of landfills. The emplacement and storage behaviour of the mechanical-biological pre-treated waste (MBW) in the landfill will fundamentally different itself in many areas from the experiences which have been gained in the past with the operation of landfills for municipal solid waste (MSW). The change of the structure of the landfilled waste is decisive for a modified settlement and stability behaviour. The aftercare phase of the landfill is distinctly reduced because of the lower emissions compared to untreated wastes. MBW plants and landfill operation must be considered in conjunction as the MBW has a significant influence on the waste to be landfilled which lead to differing consequences for the landfill operation.

---
ASK - Unser Kooperationspartner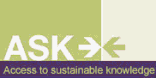 Unsere 3 aktuellsten Fachartikel
Carbonfaserverstärkte Kunststoffe
© Rhombos Verlag (6/2019)
Untersuchungen im industriellen Maßstab zeigen, dass die Bedingungen in Siedlungs- und Sonderabfallverbrennungsanlagen für eine Zerstörung von Carbonfasern nicht ausreichen
Digitales Bauen mit Building Information Modeling - der digitale Zwilling
© Springer Vieweg | Springer Fachmedien Wiesbaden GmbH (5/2019)
Building Information Modeling ist eine Arbeitsmethode, die es ermöglicht, Planungsprozesse von Bauwerken hinsichtlich Qualität und Effizienz zu optimieren. Alle relevanten Informationen eines Bauwerkes werden über den Lebenszyklus in einem digitalen Bauwerksmodell, meist dreidimensional und objektorientiert, erfasst und verwaltet. Dabei gilt der Grundsatz, dass erst digital und anschließend real gebaut wird. Am Ende besteht neben dem realen Bauwerk auch ein digitaler Zwilling.
Erhöhung der nutzbaren Arbeitswassermenge am PSW Hohenwarte II
© Springer Vieweg | Springer Fachmedien Wiesbaden GmbH (5/2019)
Das Pumpspeicherwerk (PSW) Hohenwarte II ist Teil der Saalekaskade in Thüringen. Der Betreiber des PSW plante die Erhöhung der energetisch nutzbaren Arbeitswassermenge im Oberbecken des PSW, um eine Befreiung von Netznutzungsentgelten zu erreichen. Die Erhöhung der Arbeitswassermenge sollte durch die Herabsetzung des unteren Betriebsstauzieles und damit die Erweiterung des Betriebsstauraums erfolgen. Dazu waren bauliche Veränderungen der Beckensohle erforderlich, die zunächst in einem hydraulischen 2-D-Modell dimensioniert wurden.